2018 Chairperson's Report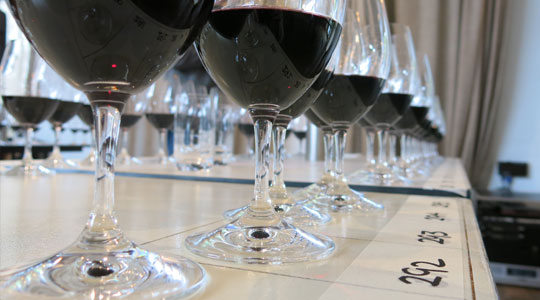 2018 Great Australian Shiraz Challenge: Chairperson's Report
The 2018, Saint Martin Great Australian Shiraz Challenge, attracted more entries than ever before with nearly 500 entries which is pleasing but not totally surprising as it truly is our national variety. Entries came from regions all over Australia, from big and small producers providing a huge diversity of styles for the judges to assess.
There has been quite a revolution in Shiraz styles over the last 10-15 years with producers pushing in to cooler climates and playing with whole bunch, carbonic maceration, old oak, large format, ceramic eggs, concrete, plastic - you name it. The final line up of potential winners by state displayed a huge array of aromatics, spices, earthiness, texture, tannins and degrees of density.
I would challenge anyone to define a generic Australian Shiraz now, it almost doesn't exist. It is the best variety to demonstrate the breadth of our regional variation with different climates, ancient soils, geology, diversity of sites and brazen approaches to winemaking. In a time that Australian winemakers and growers are seeking to better express their landscape and country than ever before.
The highest number of gold medals went to South Australia, with the Barossa Valley, Langhorne Creek, McLaren Vale, Padthaway strong performers. Victoria came in next with Western Australia, NSW and the ACT following. But it is not the number of gold medals it is the character and style of each that impressed the judges. Obviously, we don't know where they are from when we are judging, so the final tasting for best wine of show after a couple of days focused on Shiraz came down to as it turned out a Barossa Valley Shiraz vs a Tasmanian Shiraz. Both delicious in very different ways and split the judges evenly. This wasn't the first tie confronting taste offs for top golds by vintage or state. Competition was fierce.
Judging a varietal show is quite challenging, the focus on one variety can be tiring, such intense concentration. Ultimately though your language and descriptors grow and again refine. I want to thank the team of judges who were so diligent in their obligation to find Australia's best Shiraz and feel confident we did justice to the entries presented to us with numerous call backs and reassessments. So, a big thank you also to Vivian Beaumont for such quality stewarding.
The 2018 judging team were myself and...
Jeni Port – recently named 2018 Victorian legend of the vine, wine Journalist, highly experienced wine show judge
Darren Rathbone – Winemaker/proprietor of the Rathbone Wine Group including the famous Mt Langi Ghiran site and Jimmy Watson winning Xanadu wines.
Victor Nash - Winemaker at Fowles Wines in the Strathbogie ranges & regular wine show judge.
Jen Pfeiffer – Winemaker from Pfeiffer Rutherglen family winery famous for her sharp wit and beanies.
Mark O'Callaghan - Director and Senior Consultant with Wine Network and highly experienced Wine Show judge.
Judging was done by vintage this year split across the two panels, with top golds resolved by randomised call backs. Discussion was respectful and well thought out with wines given every opportunity to shine. The 2017 vintage was really strong and a lot of fun to judge, there were some beautiful older wines too. 2016 was the biggest vintage class and was quite difficult to judge with many wines showing hot, over cooked, dead fruit with unbalanced alcohol, lacking the fruit density to carry it. Yet the top 2016 wines were stunning so a true credit to the grape growers and winemakers for their balance and expressiveness.
Congratulations to the winners, your position was hard fought but for all the golds and even silvers in many cases one or more of our judges really loved your wine. I hope the results celebrate the diversity of place, creative approaches to winemaking and modern versus classic styles of our most famous variety.
Cheers
Sue
Sue Bell
Chairperson
2018 Saint Martin Great Australian Shiraz Challenge